We are always excited when Agriscaping makes headlines!
Agriscaping has been featured in USAToday, USWeekly, Forbes and so much more. Here you'll find media events, featured articles and more.
6 Plants to Spice Up Your Gardening Life
May 9, 2019

Now is a great time to spice up your life with these growing delights that you can easily grow on your own at home from traditional peppers to spicy flowers and beyond!
Gardening for Beginners
May 3, 2019
Learn the 3 simple steps if you want to start gardening. If you'd like to learn more about these simple steps you can Sign Up for the Webinar Here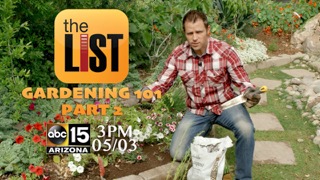 How to Start Gardening
April 24, 2019
Learn the simple rules and techniques to gardening including information about microclimates. If you'd like to learn more about microclimates you can Sign Up for the Webinar Here
Top 5 Patio Gardening Tips and Tricks
March 28, 2019
As AWESOME as spring is here in Arizona, it can still be a challenge to grow on a patio but not any more!
Here are the Top 5 Patio Gardening Tips so you can have success this Spring!
Top 4 Flower Gardening Tips for Spring
March 7, 2019
Oh my, is it BEAUTIFUL in Arizona! Everything is budding with life!
So, are you ready to Power-Up your Flowers with these Top 4 Flower Gardening Tips?
Spring Gardening Secrets!
February 21st, 2019
Spring is an AWESOME time to get your Garden On!
Watch the video to learn the 7 secrets for improved success this season!
3 Simple Steps to Spring Gardening Success!
February 7th, 2019
Spring is here!!! The Sun, The Wind, and a bit of glorious RAIN! I LOVE this time of year!
The 3 Simple Steps to Spring Gardening are in this video!
Top 4 Fruits to Plant in February
January 31st, 2019
While the rest of the world seems to be FREEZING under the "Coldest Temperatures in a Generation" We are sitting pretty with the Spring very near on the horizon and the BEST time to plant some amazing fruits!
Check out the Top 4 Fruits to plant in February!
In Season Citrus
January 17th, 2019
These wonderful evergreen marvels are a great, no-mess addition to any Arizona garden, great around pools with a POP of tasty color!
Check out my Top 7 Citrus in season this time of year and how to tell when they are ripe!
TOP 5 Cold Kickers you Can Grow At Home
December 13th, 2018
Here are Justin's TOP 5 Cold Kickers you Can Grow At Home that can both beautify your garden and help you curb the common cold this winter!
4 Levels of Frost Protection
We are Falling into WINTER and it's starting to get COLD!!! Is your garden ready? Will It survive?
If your tender plants get nipped by the frost they might never recover! The effects of frost begin at 40 degrees for some plants!
3 Simple Steps to Growing Salad
Winter Magic! Is Here!
Growing INDOORS is easy with these three simple steps. Justin Rohner will guide you on the path to your own ever-bearing bowl of sweet, better-than-organic salad
Top 5 Fruit Trees For Your Garden!
November 8th, 2018
What's in YOUR Garden? Do you want to be able to walk out your back door and get a delicious snack, right from your own orchard? It may sound crazy to grow fruit in your backyard in Phoenix, but it's not only completely possible; it's easier than you think! Justin Rohner, founder of Agriscaping Technologies, joins Danielle Williams to show us how to get started on our own orchard.
4 Freaky-Good Halloween Garden Tricks!
Oct 25th, 2018
Perfect Your Scene and Protect Your Plants! While you may love to see a dozen smiling faces, framed in wacky costumes, running to your front door with cries of "trick or treat!", your garden tends to cower. In the heat of an excited night out on the town, sometimes costumed youngsters will overstep their sidewalk and crunch a few garden flowers on their way. If you want to keep your home open to the fun of Halloween without sacrificing your prized blossoms, then listen up! Justin Rohner has all the tips and tricks you need to make your garden beautiful and safe this holiday season.
Top 3 Things to Plant This Fall
Oct 11, 2018
What should you be planting this fall? How about some FOOD, Flowers, and FUN!
Fabulous Fall Gardening Tips
Sep 27, 2018
Fabulous Fall Gardening Tips for Trees, Greens, and Beyond
3 Simple Steps to Fall Gardening Success
Sep 13, 2018
Join Justin Rohner for Green Thumb Thursday and the 3 Simple Steps to Fall Gardening Success and it all begins with healthy soil. healthy starts, and a healthy system.
Top 10 Tips
Aug 30, 2018
Join Justin Rohner for Green Thumb Thursday: Top gardeners know that in Arizona FALL is the best time to plant. What you do the next two months, starting today can easily produce for you well into the spring and early summer of next year! There's a lot to cover, so let's get you the TOP 10 Tips to getting your Fall Garden Started. First Things First…