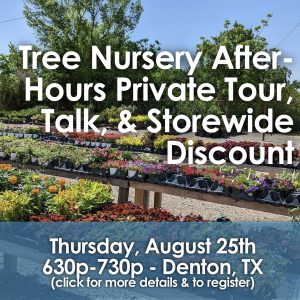 Tree & Plant Nursery After-Hours Tour, Talk, & Discount
Ever wish you could have your own personal consultant or coach walk you through a plant and tree nursery to go discuss tools, soils, fertilizer, pesticides, plants, and pots and ask questions that you may not know to ask or afraid to ask? Well, we're taking over a local Denton nursery after-hours to give a private tour where we will walk the store to go through different items and discuss what's the best choices amongst all the options, have a 'tool talk' to chat about the best garden tools every gardener needs and much more.
Since we're taking this shop over after hours, those in attendance will be able to take advantage of some really great discounts!! Don't miss this 'shop talk' & discounts for all your gardening needs!
Register now for the upcoming live event in Denton, TX on Thursday, August 25th at 6:30 pm.